A Selection of Our Clients
Perfections of Africa has over the years established a portfolio of quality products in their niche markets ranging from safari lodges, guest houses, country lodges, hotels and beach resorts.
Slow But Sure Safaris
Guided Self-Drive Safaris, Botswana.

Slow But Sure (Pty) Ltd was established in 1992 when the Botswana Government began to encourage the locals to start their own tourism related businesses. Slow But Sure Safaris is a Maun (Botswana) based tour operator that specialists in Guided Self Drive 4×4 tours and Mobile safaris throughout Botswana. Slow But Sure Safaris is affiliated with Land Rover Experience Inchanga in South Africa and thus maintains the highest standards in service in the industry.

Slow but Sure Safaris is also able to make use of exclusive Boga campsites (where available) away from the busy public campsites. All of our tours are aimed at nature enthusiasts but the areas we travel always provide for great off-road driving. Our small group size ensures that we all have a wilderness experience second to none!
Customized tours can be facilitated throughout Botswana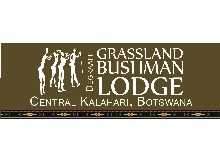 Grassland Bushman Lodge
Central Kalahari, Botswana.
Grassland Bushman Lodge is a little world of wonders!
There's never a dull moment at Grassland Bushman Lodge! Guests are free to take life at their own pace and soak up the unique atmosphere of the lodge, but you'll always find there's something different to do.
Because of the lodge's unusual location, many of the activities offered are either exclusively available at Grassland or will be different from anywhere else, to make the experience truly memorable. At Grassland we focus on four main activities: A very, comprehensive San (Bushman) experience, morning and afternoon game drives, unique predator protection project and finally horseback safaris – where guests can get close to wildlife.